Quality management system
The research activity of the Hungarian Academy of Sciences KFKI Atomic Energy Research Institute is performed in the nuclear field. In order to achieve and maintain the highest quality level, the management of the Institute has introduced an ISO 9001 based quality system in 1994 as supplier of nuclear establishments. The quality system has been regularly checked yearly: since 1997 it has been certified by Paks Nuclear Power Plant and since 1999 by Hungarian Standards Board (MSZT) and International Certification Network (IQNet). The management of the Institute is committed to satisfy all the requirements as stated in the standard and its quality policy.
The quality management team of the Institute operates and maintains the quality system, controls quality management in the projects for nuclear establishments.
The quality management team supports the institute's departments and supervises inspection and testing activities. It controls purchases of the Institute, maintains quality records of its subcontractors, regularly adjusts and calibrates measuring and test equipment and maintains a calibration laboratory. In order to continually upgrade the quality system, internal audits are carried out yearly, and experiences gained are used to correcting deficiencies and improving the quality system accordingly. The quality management team purchases and keeps record of standards and regulation documents related to nuclear safety, quality management and metrology. The Institute operates a software archive for reliable software applications.
The quality management system has been upgraded in 2002 according to the standard ISO 9001:2000 and certified by MSZT and IQNeT (validity till 2011). The main customer of the Institute – Paks Nuclear Power Plant – also conducts audits at planned intervals. Research, development, design, technical consultancy, as well as on-site implementation works have been certified (validity: 2011).

New Cím 4
Certificates
Certificate of the Hungarian Standards Institution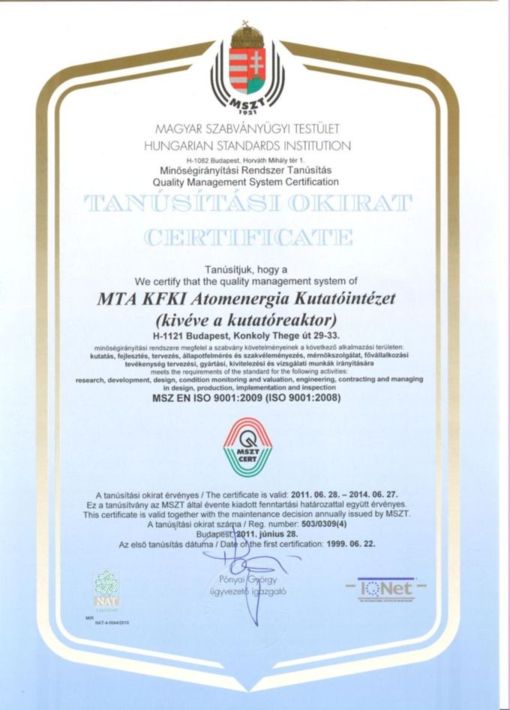 New Szöveg